Reli-a-Flex® Couplings Survive 'Robot Wars'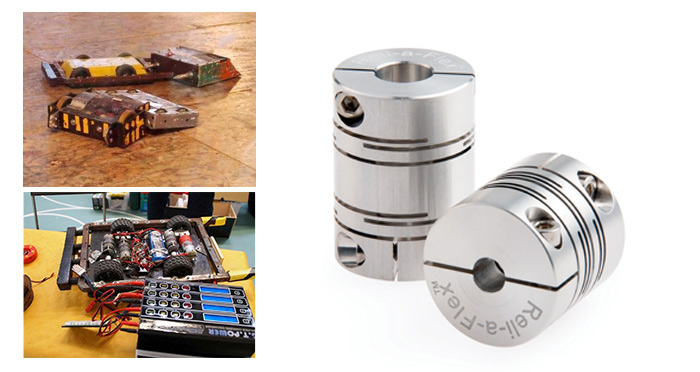 Originally broadcast in the UK, the 'Robot Wars' TV format was subsequently picked up by the Netherlands. 'Robot Wars: The Dutch battles' brought together a range of amateur and professional engineers who constructed a variety of imaginative robotic machines designed to overcome or destroy each other. Dutch Robot Wars now continues un-televised as a vibrant community, participating in a calendar of live robot events.
Marien van der Meer is a member of Dutch Team FFR and built 'Gator', one of two robots, so that his young sons could participate in the games. Unfortunately, the robots had a weakness in that the transmission was frequently damaged as it crashed to the arena floor. It was found that the wheels' direct connection to the shaft/motor assembly often resulted in broken transmissions; presenting ongoing cost issues for Marien and the team.
While Marien was searching for a solution to prevent the transmission from breaking, he came across a sample Reli-a-Flex aluminium coupling that Reliance had given him years before at a trade show. He subsequently contacted Reliance's design team for advice; enquiring whether this type of coupling would be robust enough to solve the problem:
"After contacting Reliance, they sent me four Reli-a Flex® couplings and I rebuilt the robot. Because the couplings had to go between the transmission and the wheel, I had to widen the robot and put in an extra shaft supported by ball bearings. The alignment between shafts was not ideal but considering that 'Gator' had 40 fights with no transmission failure, the couplings performed perfectly, even in misalignment conditions. The couplings went on to survive many battles; firstly in 'Gator', then in a robot called 'Lieutenant Lee'."
Reli-a-Flex® is a range of one piece precision flexible shaft couplings which are designed to cope with significant angular and parallel misalignment while maintaining highly accurate motion transfer between two rotating shafts. They provide uniform stress levels, combined with accurate angular rotation and a constant pivot length. For more product information, design support and custom solutions, contact Reliance at sales@reliance.co.uk .