For New Product Development Meet Reliance at Analytica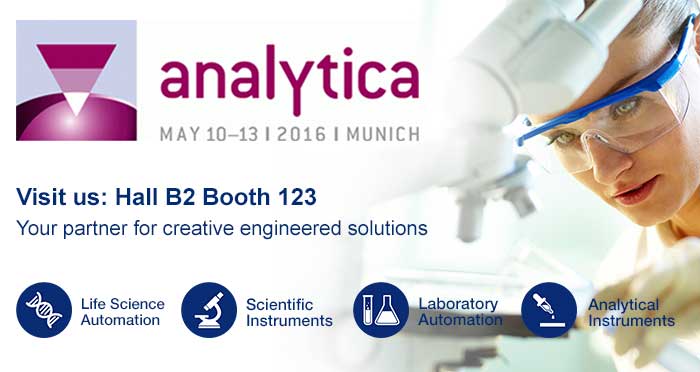 Reliance Precision will be in Hall B2, Booth 123 at Analytica to discuss its 1, 2, 3 design and development approach of 1, modelling, 2, reliability and 3, validation which makes Reliance the partner of choice for life science and diagnostic equipment manufacturers looking for quality components and sub-assemblies right through to full product design.
The Reliance team will detail how the reliability of their standardised components and sub-assemblies enables "quick to market design" and the use of proven standards reduces development cost. They will explain how this helps both large and small firms provide robust systems, with case study evidence, for example describing how its Cool Muscle motors are being used successfully in over 500 Biosafe Sepax automated cell processing systems. They will also show components such as Linear Actuators for positioning optics, lenses and lasers and Quadrupole Mass Filters used in world leading high quality mass spectrometers.
Jerry Coffey, Business Manager, Scientific, Analytical and Medical at Reliance, explains: "We take reliability seriously and supply components and sub-assemblies with high levels of yield. If an instrument manufacturer buys an inexpensive quadrupole with a 50 percent yield then of four quadrupoles, two may not work and the unit cost to build a mass spectrometer which performs within specification can be significantly increased. Buying components with a high yield is cost-effective because this produces reliable instruments every time."
On the Booth, technical experts will explain how unique modelling software and other techniques are used to determine in what manner assemblies such as quadrupoles will perform in a specific instrument. They will detail how this approach, which sets Reliance apart from other developers, can help to optimise a system's final design.
Jerry continues: "Using this internally developed capability we can model our components and sub-assemblies in an instrument-like environment. Gathering that information, we can identify potential issues, which allows us to engage with partners to design the best system in terms of cost and performance. Using this approach one venture capital backed firm we recently partnered with launched a fully validated system from scratch into a niche market within 18 months."
Reliance, a niche industrialiser, can produce 50-200 full systems per year (up to 1000 units when required) and operates in a clean assembly environment utilising manufacturing and engineering skills of the highest calibre, to deliver product validation as the final piece of its 1,2,3 development approach.
Stephen Guy, Reliance's Business Manager, Life Sciences concludes: "We're delighted to be at Analytica this year. By focusing on modelling, reliability and validation we know we can provide excellent technical and commercial guidance to help produce robust benchtop automation and equipment for a wide range of life science and diagnostic applications. We look forward to welcoming manufacturers that need high quality components, sub-assemblies or full product design onto Booth 123."