Celebrating Chartered Engineering Achievement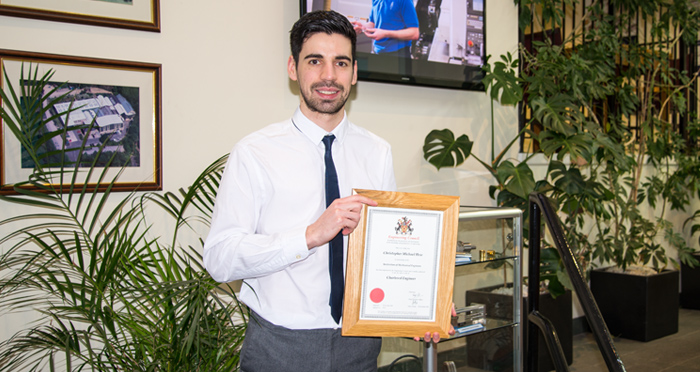 Reliance Precision is pleased to announce that one of our Mechanical Design Engineers, Chris Hew, has achieved Chartered Engineer status and membership to the Institution of Mechanical Engineers (IMechE). Chris, who studied Mechanical Engineering at Warwick University, is one of a number of Chartered Engineers at the company. At Reliance, employees who wish to pursue IMechE or IET membership are supported through a Monitored Professional Development Scheme (MPDS) which allows the candidate to follow a structured four year programme. Chris explains:
"When I was studying my degree I identified early on that I wanted to become a Chartered Engineer – I felt that the professional recognition would give me better career prospects. The process in place at Reliance made it really straightforward – I was able to achieve the competencies required and was encouraged to broaden my role and stretch myself to ensure I comfortably passed the requirements."
Reliance believes that developing Chartered Engineers through the MPDS system brings independent validation to their ongoing professional development programmes and allows their customers to benchmark their levels of professional conduct and expertise.  The process encourages and develops both the Chartered Engineer candidate as well as their internal mentor and exposes Reliance's engineers to the ever improving standards that industry expects.
The scheme is supported by Reliance's directors and senior managers. Dr Ian Laidler, Technical Director, comments:
"We are committed to helping our employees develop their knowledge and skills wherever possible and have maintained our accreditation to run the MPDS scheme for over 15 years. It is designed to guide our engineers through their early career to become chartered and supports both the IMechE and IET schemes."
Reliance has also recently been presented with the title of 'Employer of the Year' at the Examiner Business Awards. The award, given predominantly for Reliance's expanding apprenticeship programme, reflects the importance to the company of engineering development whether it is via apprentice training, studying for HNC/HND qualifications, part-time or full-time engineering degrees or attaining chartered status.