Apprentices Discover the Importance of Communication and Safety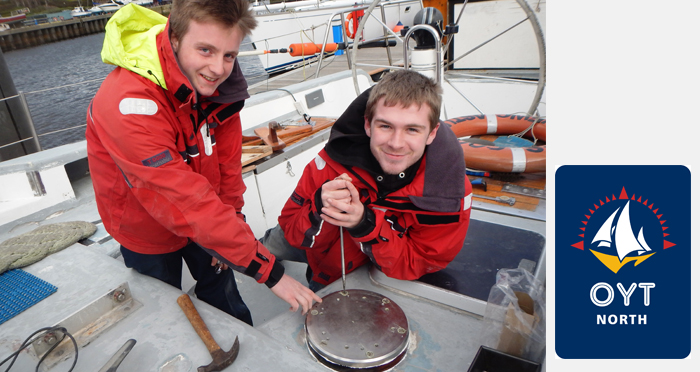 The Ocean Youth Trust (OYT) is a charity that encourages the personal development of young people through sailing activities. Moored at the Royal Quays Marina, Tynemouth, the James Cook boat gives participants an excellent opportunity to develop new skills and overcome a variety of challenges; both individually and as a team. Maintenance work is carried out by volunteers during the winter months to prepare for the following season. For two days in Feb 2014, Joe Clayton, Megan Lunn, Jacob Booth and Jay Mawdsley took time out from their duties as apprentices at Reliance Precision, Huddersfield, to support this essential work.
Arriving at the marina, it soon became apparent that on-board safety was going to play a major role in the visit and volunteers were soon informed of the necessity of taking responsibility for their own, as well as their colleagues' safety. The need for mutual awareness was highlighted, as was the importance of clear instructions and communication.
A task assigned to second year apprentices Jacob and Jay, was the fitting of a winch mounting plate to the boat deck; a pair of which had recently been modified by Megan and Jay on a CNC machine back at Reliance. Jay worked from the upper deck and Jacob worked below in a joint operation to fit the plate. This was quite a difficult job for Jacob given the confined and limited workspace below deck. Maintaining clear communication was however necessary to the success of the operation; not an easy a task when having to compete with noisy power tools in constant use by fellow volunteers.
Although the assigned tasks were often physical and demanding, the apprentices came away with an overriding sense that the visit had been a positive experience, and one which has inspired them for the future:
"We all gained a lot from the visit," comments Jacob, "particularly our improved organisational skills and self confidence. We also now recognise the need for assertive communication, especially in working situations where there is potential for accidents. I am really looking forward to returning to Reliance where there will be an opportunity to put these new found skills into practice."