Apprentice's Army Engineering Challenge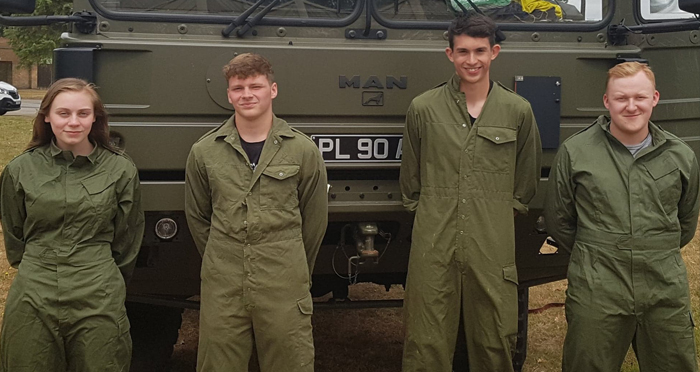 Another group of Reliance apprentices have taken part in this year's Army Engineering Challenge hosted by the Royal Electrical & Mechanical Engineers (REME). Designed to challenge their engineering and design skills, the course entails theoretical and practical training with a focus on technical design, team building, project management and personal development.
Taking part in the four day residential course at the Queen Elizabeth Barracks in Strensall, York, were Zak Bell, Nicole Le Talbot, Finlay Browne and Ashley Scott.
The course began with an insight into life as an Army Reserve, with exercises such as camouflage and concealment, weapons handling, an obstacle course and various leadership challenges. Zak Bell, a first year apprentice at Reliance, explains "One leadership challenge was a real test of our communication skills. We had to guide our team members to complete the obstacle course using verbal instructions only. It was good fun but difficult to do when you just wanted to get stuck in and help."
The four were working in small groups with apprentices from other organisations including Caterpillar, Komatsu, Nissan, British Steel and Pearson Engineering. Second year apprentice Finlay Browne remarks "We went from being complete strangers to having to work very closely together in a short space of time, but the exercises helped in getting to know each other." Zak adds "Teamwork and communication skills were really important throughout the whole course, but particularly when it came to the main Engineering Challenge. Very quickly we had to understand each other's skills, strengths and weaknesses."
The Engineering Challenge was the key focus of the course. Working in their groups, the apprentices were asked to design and manufacture a portable medieval siege weapon, capable of firing a football at a target on a scaffold wall (supposed to represent a castle wall). Each group was given the same range of raw materials from which to construct their weapon. Zak explains "Our group started with a design session where we brainstormed ideas and decided which one we were going to progress. We then split into pairs to work on the manufacture of the different components before coming together to assemble and test the weapon."
The course concluded with a ceremony with each team presenting their weapon, explaining the reasoning behind the design and how they had manufactured it. It was then the moment of truth, as each weapon was fired at the target. The team containing Zak and Finlay were awarded winners of the Challenge, as their solution not only hit the target, but was deemed to be the most consistent and reliable design.
As one of only two girls participating in the course, Nicole Le Talbot explains "Doing the Army Challenge has really helped my confidence. I'm quite shy around new people so having to work with people I didn't know was tough. The presentation at the end was also really daunting and I was very nervous, but after doing my bit I felt really proud of myself for standing up in front of everyone and speaking."
Robert Farrell, Reliance's Training School Team Leader, who attended the presentation last week comments "I am incredibly proud of how all our apprentices performed over the duration of the course. They were clearly out of their comfort zones, but I genuinely believe they benefit enormously from being in this challenging and unfamiliar environment. Expertly delivered by the REME, this course provides the opportunity to further develop the skills they learn here at Reliance, specifically in relation to team building, engineering design and communication."
More information on our apprenticeship scheme.