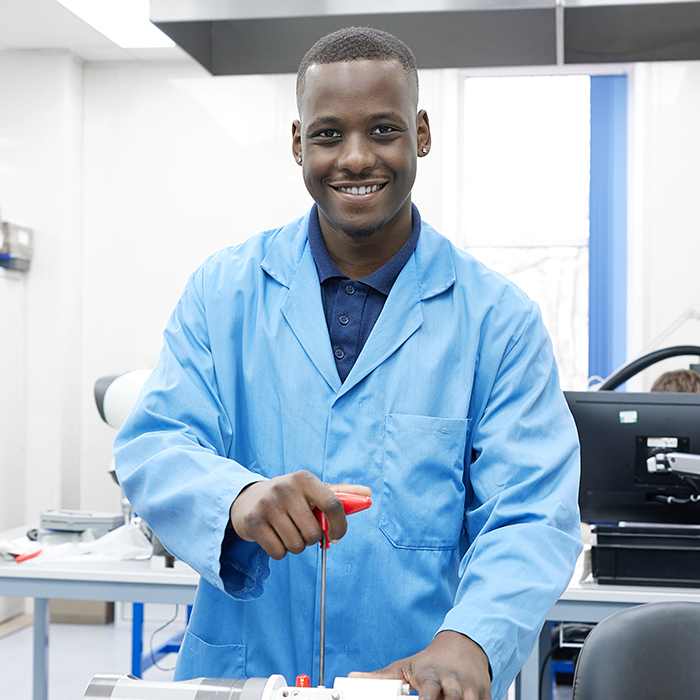 Charles Mukoyi
Assembly Engineer
​Charles has recently graduated from the Reliance Precision Apprenticeship Scheme and is now working as an Assembly Engineer.
Charles applied to Reliance's apprenticeship scheme whilst studying a full time Level 3 Extended Diploma in Manufacturing Engineering at Kirklees Engineering College. Whilst he was keen to continue his engineering education, he also wanted to get some practical hands-on experience to support his learning. When the college made him aware of the apprenticeship scheme at Reliance, he realised it could give him the best of both worlds. He joined the scheme in 2020, in a slightly condensed format, to accommodate the engineering learning he had gained from his studies the previous year.
Charles' first year was spent in the Training Room where his skills were assessed and complemented with additional training and learning. Alongside this, he attended college to complete his Level 3 qualification. His second year was spent on rotation in the assembly department. This extended to a business wide rotation in his final year, culminating with four months in the Finishing department to learn and understand it's importance to assembly, and two months in Metrology & Inspection.
During his final year, Charles was invited to be part of the apprentice team representing Reliance in The LaunchUK Nanosat Design Competition. They proposed an idea of a nanosat that would use hyperspectral imaging to monitor seaweed found off the coast of the UK, and in order to progress to final judging, the team were required to prepare a Preliminary Design Review. Charles comments "I really enjoyed taking part in this project. It has to be one of my key achievements in life. Coming up with an idea, the design, and then bringing it to life for the judging panel was such a great learning experience. It was pretty daunting having to present to a team of senior people from both the UK Space Agency and the European Space Agency, but my confidence has rocketed as a result."
Now, as an Assembly Engineer, Charles is beginning a journey to learn and understand every aspect of the Assembly department. He explains "It's a great opportunity. I'm involved in fine, cleanroom, optical and life sciences assembly, building my skillset every day as I learn on-the-job."
He adds "Reliance is a really good company to work for. You have to work hard, but they look after you if you do. They have helped me start my career in engineering, something I've always wanted. As well as learning, there's other little things I appreciate, like my mentor. He helps me a lot and it's a relationship I really value."