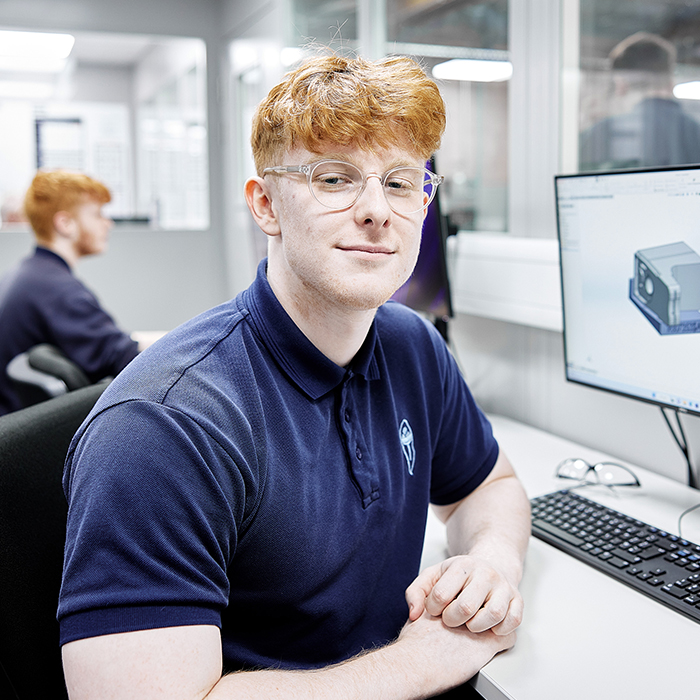 Warwick Connolly
Current Apprentice
Warwick joined the Reliance Precision Apprenticeship Scheme after completing A-level Maths, Physics and Geology at Greenhead College. He wasn't far into his A-levels when he realised he wasn't particularly enjoying all elements of his studies. He decided to have a shift in focus and chose to take up some work experience opportunities, alongside his studies, to explore potential options. He laboured in a number of different industries, as well as for an electrician in a local engineering company. The latter stuck with him and, having been aware of Reliance's engineering apprenticeship since Year 10 at school, he decided to apply.
His application coincided with the Covid-19 pandemic, so the recruitment process was a little different in that all stages were conducted remotely via Microsoft Teams. Undaunted by the challenge, Warwick came across as a very strong candidate.
His apprenticeship began in August 2021 along with five other successful candidates. Working in the Apprentice Training Facility, they started the learning journey, building their foundation engineering skills. Warwick explains: "For the majority of our first year we were completing practical units for assessment. Half the year was spent making parts on the manual milling machines, with the other half on the manual turning machines."
Alongside their practical work, the apprentices attended Kirklees College for two days a week to study for a Level 2 Diploma in Advanced Manufacturing Engineering. Warwick comments "The six of us get on really well and there is a great sense of teamwork between us. We have a lot of respect for one another. Being the eldest in the group I've always felt it was my place to help the others wherever I could, whether in the practical environment of work or with our studies at college."
Now on rotation in the second year of his apprenticeship, Warwick has spent time in different departments. His favourite areas to date, and the ones he is keeping in mind for next year's specialism, are Inspection, the Tool Room, Turning and Assembly. Whilst he has an open mind about his future career path, Warwick would like the opportunity to do an engineering degree after his apprenticeship.
Warwick concludes: "The Reliance Precision Apprenticeship Scheme is extremely well run. The support and guidance you receive throughout the four years is immense. There are so many opportunities open to you, both when you are serving your apprenticeship and once you graduate. I am really happy at Reliance. It is a great company to work for."