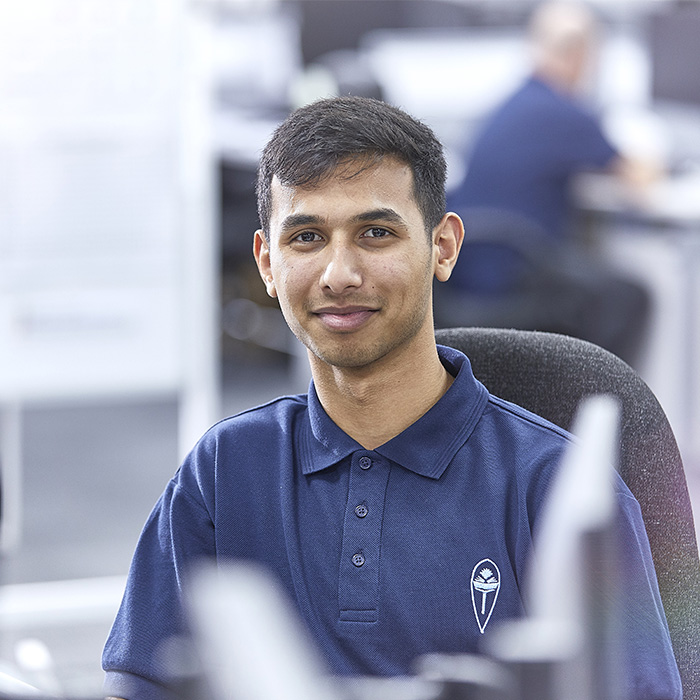 Vineet Negi
Sales Engineer
Vineet first decided he wanted to become an engineer when he was at primary school. He puts this down to his inquisitive mind always wanting to know how things work. While studying for his GCSEs he was told about the Reliance Precision Apprenticeship Scheme by a teacher at school and also by a family friend who knew someone on the scheme at the time. He did some research online to find out more about Reliance, the type of engineering they did, and the details of the scheme. Impressed with what he learnt, he decided to apply.
After successfully securing a place, he began learning core engineering skills. During that first year, Vineet was identified by his team leader as having the necessary skills to work in Sales, and at this stage he began to seriously consider it as a future option.
During his second year, he did the standard rotation around the different production departments learning their specific skills as well as considering where he might like to specialise for the remainder of his apprenticeship. Not quite sure which direction he wanted to go in, Reliance allowed him an extension of a month in Inspection and two months in Sales. After that, his mind was made up. He decided on Sales.
Now in the final year of his apprenticeship, Vineet is a member of Reliance's Standard Products sales team. His role entails communicating with customers from all over the world to understand the issue or problem they are looking to resolve. From the information he gathers he works with the team to determine the solution Reliance can offer. This is where the previous three years of his apprenticeship have really helped. Having spent time working in all departments, he has a good understanding of the capabilities of each.
Vineet has also spent time at the company's facility in Ireland where a number of Reliance's standard products are manufactured. Whilst he was there, he worked on different machines, learning how to operate them and what they are used to produce. He also spent time understanding the operation of the business and its processes.
Vineet explains "I am really enjoying my time working in Sales. I feel like I have gained the best of both worlds in my apprenticeship. I have learnt about engineering and the capabilities of the machines in a practical, hands-on way, supported by theory from my college courses. I am now working in an environment where all of this knowledge is brought together to create a solution for a customer, allowing me to further understand our capabilities in drawing, modelling, parts, components and assemblies."
Vineet is due to complete his apprenticeship in the summer, which will coincide with the completion of his Higher National Certificate (HNC) in Mechanical Engineering. He comments "I would really like to pursue a career in Sales here at Reliance once I graduate from the apprenticeship scheme. I am also keen to continue with my studies and would like to do an engineering degree if at all possible." He continues "I would definitely recommend the Reliance apprenticeship scheme for anyone keen to pursue a career in engineering. It doesn't necessarily mean working in manufacturing once you graduate. There can be opportunities available for office-based positions in Sales or Engineering Design or other departments. Regardless of your career path, the core engineering skills you learn throughout your apprenticeship will give you a unique foundation of knowledge on which to build your skills and expertise in your chosen specialism."