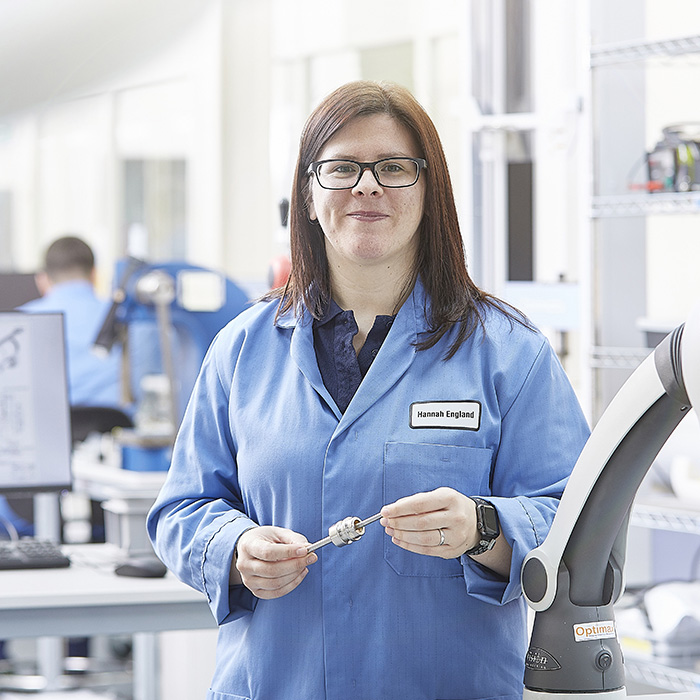 Hannah England
Senior Production Engineer
Hannah's time on the Reliance Precision Apprenticeship Scheme was slightly different to the standard four years the majority of apprentices undertake. She applied whilst studying for A Levels in Maths, Physics and Design, all specifically chosen to enable her to begin a career in engineering. At the end of the application process Hannah was offered a bespoke, fast track three-year apprenticeship, with the intention of going to university at the end.  
Her first year was the standard apprentice training year alongside which she began a Higher National Certificate (HNC) in Mechanical and Manufacturing Engineering at college. In her second year she did a specialism in Turning, working alongside the manufacturing engineers to fully understand the manufacturing process, and completed her HNC. The final year of her apprenticeship was spent working full-time at Reliance in which she spent six months in Turning and six months in the Assembly Production Engineering Department.
When she graduated from the apprenticeship scheme in 2010, Hannah went to study a four-year course at Newcastle University. During the holidays she came back to work in the Assembly Production Engineering Department. She comments "It was like coming home each time I came back for a stint at work. Knowing everyone and how the business operates, it was an easy adjustment to make getting back into work-mode.".
In 2014 Hannah graduated with an MEng in Mechanical Engineering and returned to Reliance to take up a full-time position as a Mechanical Engineer. Her role involved planning and overseeing the process development of space projects and application trials, as well as developing methods for assembly. Once back at Reliance, Hannah decided to study for her CEng (Chartered Engineer) status with the IMechE (Institute of Mechanical Engineers). Keen to build on her qualifications and increase her knowledge, she thought an internationally recognised qualification could be a great asset to her future career. Whilst working through the IMechE MPDS (Monitored Professional Development Scheme) she was promoted to Team Leader for Fine Assembly, Space and Life Sciences. With overall responsibility for the assemblies being built, she managed a team of people, motivating and supporting them in the development of their skills and knowledge. She also took on and managed the project to create a new technical assembly facility at Reliance, dedicated to the assembly of Life Science products. The end result of which, she is extremely proud of.
Hannah was awarded Chartered Engineer status in 2017 after successfully demonstrating her ability to develop solutions to engineering problems using new or existing technologies in creative and innovative ways. She will shortly be moving to a new role as Senior Production Engineer in the Assembly Production Engineering Department, taking responsibility for planning jobs, tooling, developing assembly processes and supporting production.
She comments "The apprenticeship scheme provided the foundations on which I could build a career. It enabled me to learn the practical, hands-on core engineering skills onto which I've been able to add academic and practical theory. Reliance have also provided me with a platform to share my passion for engineering. I visit schools to give talks about engineering as a career. I also run Reliance's annual International Women in Engineering Day event which aims to provide girls with an insight into engineering and the different career opportunities available."