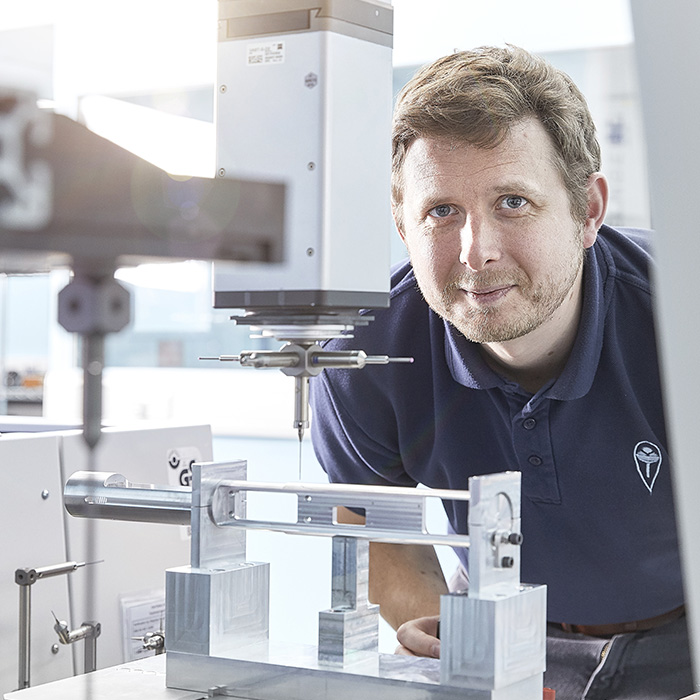 David Torr
Head of Metrology
David Torr has worked at Reliance for over twenty years and is now their Head of Metrology. He joined the company back in 1999 after being offered a place on the Reliance Precision Apprenticeship Scheme.
David recalls studying for his GCSEs at school with no idea of what he wanted to do afterwards. He freely admits he didn't enjoy school, as he was not particularly academically minded at that time. What he did enjoy though was making things, specifically taking things apart and rebuilding them to understand how they work. It was because of this interest his school careers service introduced him to Kirkdale Industrial Training Services (KITS).  KITS, an engineering apprentice training provider, opened David's eyes to the world of engineering and the opportunities within. It was through KITS that he learnt about the apprenticeship position at Reliance.
David admits he found the application process difficult. He struggled with the more academic aspects but excelled in the practical elements and was over the moon when he was offered a place.
The first year of his apprenticeship was spent at KITS in their training facility where he learnt foundation skills. He also began a four-year City & Guilds engineering course at Huddersfield Technical College on day release basis. Back at Reliance for the second year of his apprenticeship, he worked his way around the different manufacturing departments learning the core skills of each, before choosing to spend the remainder of his time specialising in grinding. However, during the final year of his apprenticeship, David was given the opportunity to move into the Inspection department. Historically, apprentices had not been taken into this team and although he was not entirely sure what the position would entail, he decided to give it a go.
In 2003, David graduated from the apprenticeship scheme and took a full-time position in the Inspection team as an Inspector. His role entailed inspecting parts, confirming quality standards and completing inspection reports, continuously learning from his colleagues. In 2008 he was promoted to Deputy Chief Inspector, taking on additional responsibilities managing the wider team as well as providing support to his manager. He also started programming Co-ordinate Measuring Machines (CMMs), developing a keen interest in how they work, the information they provide and what you can learn from it. It was this work which saw him begin to develop his analytical skills. Two years later he was promoted to Chief Inspector, managing the whole Inspection team and the operation of the department. During this period David gained his Level 1 and 2 qualifications in Dimensional Measurement from the National Physical Laboratory (NPL). He also was involved in managing projects within Reliance's Continuous Improvement Programme as part of the company's drive to deliver manufacturing excellence.
Having discovered an appetite for learning and a desire to keep developing his skills and knowledge, David decided to study for a Foundation Degree in Engineering, specialising in Metrology. This was a two-year degree which he did part-time alongside his work at Reliance. David comments "I absolutely loved doing the degree. It helped me see the benefit of how the core subjects of maths and English, coupled with the ability to research, could help me in my engineering career. It really was a pivotal moment for me."
In 2014, whilst studying for his degree, David was promoted to a newly created role, Head of Metrology. He began by introducing new measuring systems and procuring new equipment, all of which needed embedding into Reliance's manufacturing processes. This resulted in a huge amount of training throughout the organisation, which David managed and oversaw. He also began taking apprentices into the Metrology team, immersing them in the technology and science to see if they excelled and could be potential future team members. Then, in 2016, Reliance made the decision to merge Inspection and Metrology, creating one department – Metrology. David continued his role as Head of Metrology, seeing his team increase both in size and capability.
David's most recent achievement is achieving Chartered Engineer status from The Institution of Engineering and Technology (IET). His award recognises his capabilities and innovation in developing and investing in technology during his career at Reliance. He comments "I am so proud to have achieved my Chartered Engineer status. Looking back at the boy who started at Reliance over twenty years ago, I would never have believed I would be where I am today. I will be forever grateful to Reliance, and in particular its founder, Mr Selka, for believing in me and offering me an apprenticeship position. It introduced me to a whole new world and enabled me to discover a passion for metrology. As Reliance's business has developed, the importance of metrology and inspection has increased, and they are now an integral part of our manufacturing process. We are continually investing in new equipment, training and developing new techniques to ensure we maintain our high measurement standards and I am incredibly proud to be part of the team and leading it."