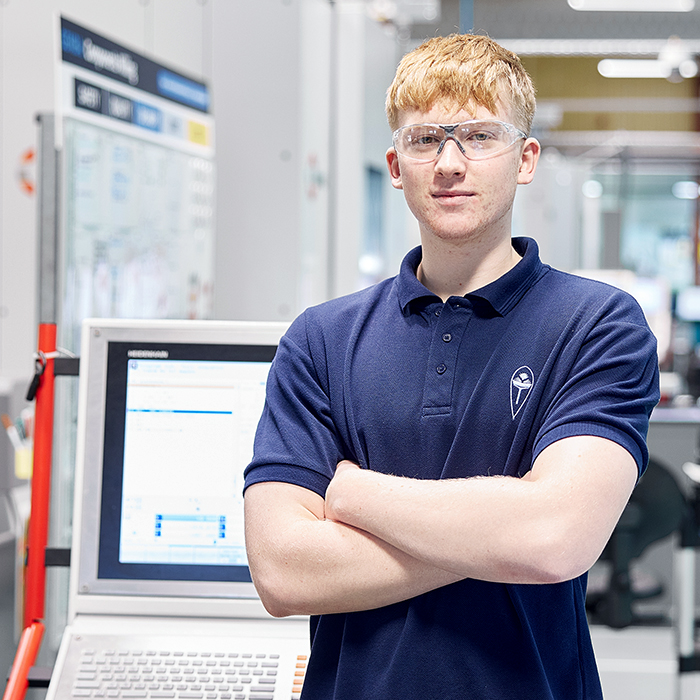 Archie Barraclough
Current Apprentice
Archie learnt about the Reliance Precision Apprenticeship Scheme at a careers fair whilst studying for his GCSEs at King James's School in Almondbury. Reliance was among a group of local companies presenting opportunities open to young people. Archie didn't really have a clear idea of what he wanted to do after his GCSEs but knew he didn't want to continue in full time education. He'd begun to develop an interest in engineering from his grandad who had worked as an engineer, so decided to explore what options were available to him in the engineering industry. He liked the sound of an apprenticeship, as it meant he could gain practical work experience in a hands-on environment, whilst having the opportunity to study on a part time basis. He was also interested in the nature of Reliance's work, so he asked if he could do his two-week school work experience placement there to learn more.
The placement helped establish that an apprenticeship was what Archie wanted to do. He applied to a few local engineering companies and found himself with two offers on the table. He explains "The choice for me was clear…Reliance. Their application process had been more inclusive as I'd been exposed to different people within the business and everyone was so nice and friendly. There was a real sense that, despite its size, it was a family business and people mattered."
In Archie's first year in the training facility, he was introduced to the manual milling machines, learning how they operate. He also studied for his Level 2 Diploma in Advanced Manufacturing Engineering at Kirklees College. His Year 2 rotation was business wide and helped reaffirm his interest in the production side. Now in his third year, Archie has chosen milling as his specialism and works as part of the production team on the milling machines. He's been taught how the machines run, how to set them up and how to use them, as well as about the various measuring equipment required to ensure the required tolerances are being achieved. He attends Kirklees College one day a week, where he is studying his Level 3 Diploma.
Archie knows the final year of his apprenticeship will see him continue his specialism in milling, and he hopes to take up a full-time position in the team when he graduates. He is also keen to continue with his studies, wanting to gain further qualifications to increase his skills and knowledge.
Archie comments "I'm so glad I chose Reliance and their apprenticeship scheme. The help and support I have received to date have been excellent. It's a great business to work in. It's very forward thinking and the work we do is leading edge. There's continuous investment in technology, production and people to ensure we remain the best at what we do."