Reliance to Exhibit at DSEI 2021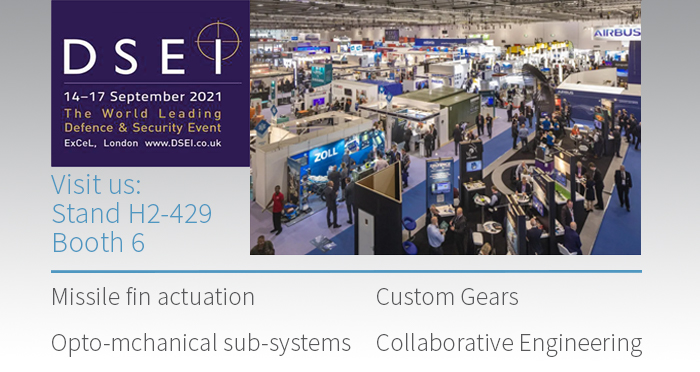 Reliance Precision Limited ('Reliance') are to exhibit on Stand H2-429, Booth 6 at this year's Defence and Security Equipment International ('DSEI') Show on 14 – 17 September at ExCel London.
After a lengthy global shutdown of the exhibition sector during the COVID-19 pandemic, DSEI is one of the first exhibitions where people will have the opportunity to come back together in person. The show, held every two years, connects governments, national armed forces, industry thought leaders and the entire defence and security supply chain on a global scale. With specific exhibition zones for Aerospace, Land, Naval and Security, its aim is for attendees to strengthen relationships, share knowledge and engage in the latest capabilities.
With restrictions on overseas travel continuing, the organisers of the show have introduced a digital offering to run alongside this year's live event. There will be a number of online opportunities bringing participants from around the world together with those attending the event in London to create a 'hybrid' format.
As in previous years, Reliance will exhibit in the Make UK Defence exhibition area. Make UK Defence is a national not-for-profit, member owned defence trade association which is part of Make UK – the manufacturers' organisation. Make UK Defence champions and support the UK's innovative and diverse defence manufacturers and the wider defence supply chain.
On their stand H2-429, Booth 6 Reliance will be displaying a range of gears, gearboxes and sub-assemblies from missiles, radars, jet aircraft, helicopters, artillery, laser targeting systems and directed energy weapons. The team will be on-hand to provide background on each of the items, as well as explain Reliance's involvement in the design, development, prototyping and manufacture.
Nathan Bowers, Reliance's Key Account Manager (Leonardo UK), will attend the show as part of the team manning the exhibition stand. He comments "As we gradually emerge from the COVID-19 pandemic, this will be the first live event Reliance has attended for over 18 months. I have to admit, I'm looking forward to the prospect of meeting people face-to-face again. DSEI always provides us with the opportunity to meet existing customers, as well as introduce our range of high accuracy components and assemblies to new contacts. I'm hopeful the Reliance team will also get chance to attend some of the conference forums taking place over the four days. These are great opportunities to gain market intelligence and learn about the latest developments and technologies in the industry."