Reliance Host Ministerial Visit at Huddersfield Site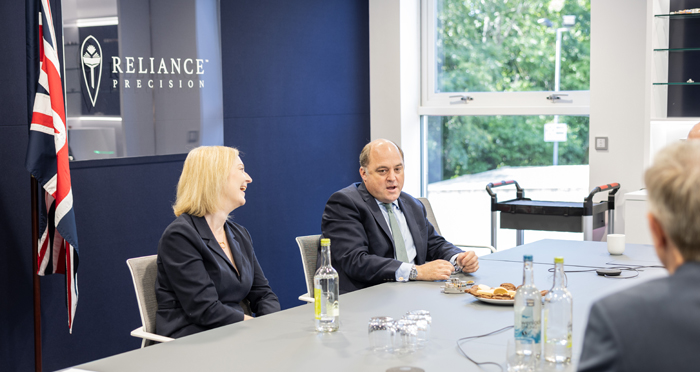 Reliance Precision Limited 'Reliance' is delighted to have received a visit from Liz Truss, Secretary of State for Foreign, Commonwealth and Development Affairs and Minister for Women and Equalities, and Ben Wallace, Secretary of State for Defence, today at its Huddersfield site. The Ministers met with James Selka, Non-executive Director, as well as Steve Woollven, Managing Director, and Andy Butt, Business Manager (Aerospace Defence and Space) who provided an overview of Reliance and its work in the Aerospace Defence and Space industries.
Andy Butt comments:
"As a high-tech SME based in the North of England, we are proud to showcase our capabilities in the manufacture of high-reliability components and sub-assemblies for critical applications like Aerospace, Defence and Space. Exports make up a substantial part of our business with 90% of our Aerospace Defence and Space work being directly or indirectly exported. Today's visit reinforces the importance and benefits that defence companies and SMEs provide."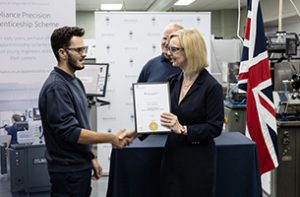 The Ministers were taken on a tour of the site to view Reliance's state-of-the-art facilities. Their visit coincided with the completion of a new cleanroom for space mechanism assembly. The new facility reflects the substantial investment the company has made in the space industry and will allow it to continue to grow in this area. The tour concluded with a visit to Reliance's apprentice training facility where Ms Truss and Mr Wallace presented the current fourth year apprentices with their graduation certificates.
James Selka concludes:
"This morning's visit was a brilliant opportunity for us to showcase our Huddersfield site. We have many years' experience supplying mission-critical components and assemblies into a diverse range of industries – from aerospace defence and space to analytical and medical instruments. Our highly knowledgeable workforce provide solutions to the problems our customers face; our long-running apprenticeship scheme ensures that we have the next generation of skilled precision engineers lined up to take Reliance into the future."